Top
Concept Design & Drawing Review
Concept Design & Drawing Review
HESCO offers the full range of Concept Design & drawing reviews which are tailored to meet the evolving needs of our clients and associates.We have the capability to provide all these services locally and globally.
HESCO keeps a strong team of Naval Architects, Marine Engineers, Electrical Engineers . Our team covers all aspects of new building design ,Basically, our experts in HESCO are very competent in each field of ship building industry. They have served their whole life for average 35 years in some of the leading shipbuliding companies in the world. Then they have made very remarkable achievements in ship building engineering area. They have a lot of experiences in all kinds of ships such as tankers, containers, bulkers, car carriers and gas carriers etc.


What sets us apart from other consulting companies is the amount of experience we have in ship designs and drawing review and our vast pool of professionals to deliver our client's ship design needs. Since we have the right people for the right job, we can provide a holistic, one-stop approach to the ship design process and thus help clients save cost and manpower. HESCO is capable of aligning process with the wants and needs of its clients.
We deliver intelligent solutions in the areas of Conceptual Ship Design & Drawing Reviews and are much tailored to meet the objectives and relevant demands of our clients. Following are the category which we can provide:
1. Conceptual Ship Design
HESCO can provide a suitable concept design for every ship. We develop outline design and outline specifications for a variety of marine applications and do analysis taking into account the physical, economic, technological and operational aspects, based on client's requirements, that is, the type of cargo, loading capacity, size, speed, routes, etc.
HESCO determines the best basic performance specifications and major equipment of the ship through calculating the performance of the ship and verifying it on the basis of the accumulated past performance of a previously developed ship and supplies conceptual ship design for production consideration in order to save total production cost.
HESCO prepares concepts utilizing its accumulated technical knowledge along with practical operational experience for the vessel type. We ensure that the needs of our clients are met, and the level of comfort of those who finally operate the vessels are also taken into consideration
Core processes
The selection of mother ship in case ?based conceptual design through similarity assessment.
Knowledge?based adaptation for the determination of principal dimensions
Principal dimensions by interfacing of case-base and database
Standard set of Conceptual ship design Services:
According to specifuc requirement of client with very resticted knowledge
Creation of the technical material needed for the tender and contract
Investigation of trading routes
Definition of ships technical characteristics and performance based on owner's requirements
Main engine selection & optimization of propulsion system
Evalution of speed performance
Ship's maneuverability
Ship Motion analysis
Preparation of schematic General Arrangement
Preparation of Contract specification
Preparation of schematic Piping Diagram
Preparation of lay-out of Accommodation
Preparation of schematic Machinary Arrangement
Electric load analysis
Preparation of Midship Plan configuration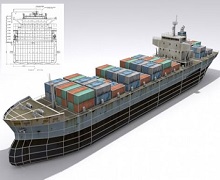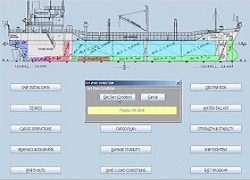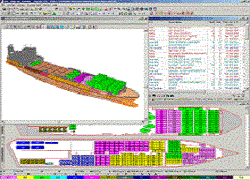 2. Drawing Review for Owner Approval
Our core competence lies in our extensive know-how in designing quality ships and reviewing ship designs for approval, thereby helping clients develop a sustainable edge for their ships and shipyards.
Basic and Detail arrangement drawing
- Key Plan (Gerneral Arrangement ,Midship Section Plan ,Construction Profile,P&ID)
- Hull Outfitting , Hull Piping , Accommodation , Machinery Room , Electric wiring Diagram ,Hull Construction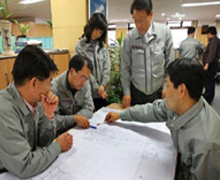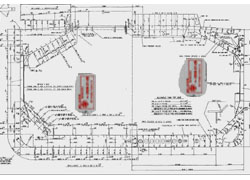 3. Review of Design for Efficient Construction
An important factor that is necessary to building quality ships and having an efficient construction process is to have a feasible and effective ship design. And this is the kind of service that HESCO can give to its clients. We keep a strong team of trained designers and architects who have worked on so many projects and in different kinds of ships for the past 30 years.
Detail Arrangement Drawing
- Hull Outfitting , Hull Piping , Accommodation , Machinery Room , Electric wiring Diagram ,Hull Construction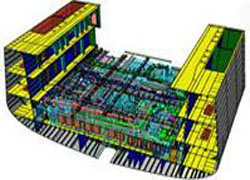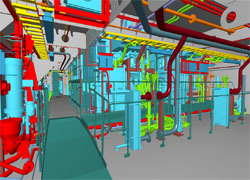 4. Production Drawing & Drawing Review
We can provide whole Working Drawing service to ensure quality output, if client requests for it. HESCO can give you the most secure and reliable methods on how to increase the lifetime of your vessels and how to reduce cost during construction.
Production Drawing & Review of Production Drawing
- Hull Steel Cutting Drawing, Hull Fabrication Drawing,Hull Construction Drawing
- Shop Drawing for Hull Outfitting ,Shop Drawing for Piping
- Installation Drawing for Hull Outfitting , Installation Drawing for Piping & Machinery Room
- Installation Drawing for Accommodation , Installation Drawing for Equipmenet of Electric & Machinery Room