Top
Construction and Refurbishment for Repair Shipyards
Repair Shipyard Construction
For Clients who are interested in building their own repair shipyard, we offer full services from planing to construction and management at initial stage. We also offer maintenance services for these newly built shipyards. Here is the scope for the engineering service we offer for repair shipyards construction:
Conceptual Planning and Design for repair shipyards
Factors to be considered to establish new repair shipyards
Full services from Planning to Construction for repair shipyards
Optimized Layout to meet Business strategy
Capacity Calculations & Manning Plans
Facilities & Equipments lists/Descriptions
Investment budgets and analysis
Complete Design and Engineering Services for Civil works, Shops Construction & Facilities
Optimizing logistics and productivity
Feasibility Study to assess the viability of shipyards establishment
- To identify the market size and existing landscape, potential users,
financial resources, opportunities to fund and management structure
- Concept Plan, Organization Model, Business Plan
- Determination of strategic ships' type, size and number of vessels for ship repair and conversion
- Location Plan with Rationale
- Project Implement Plan
- Risk and Mitigation Plan
- Project economics and sustainability
- Forecast of the future market
Risk Management to provide our Clients with key results with a clear analysis and understanding of potential risks.
- Identify and analysis of possible risks
- Assessment of risks
- Risk mitigation plan
- Implementation and monitoring
- Re-evaluation of risks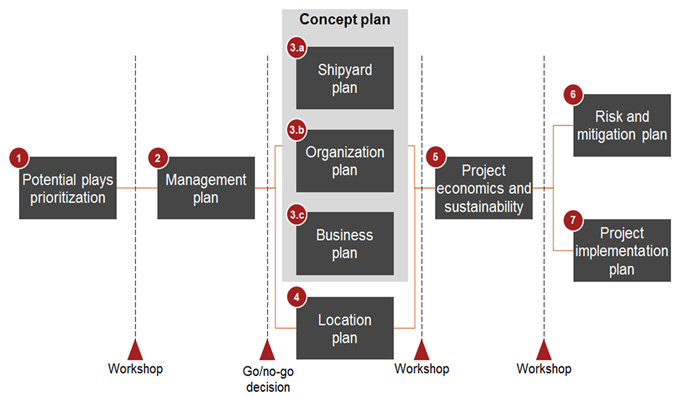 System Improvement & Modernization for Repair Shipyards
With our experience at Hyundai Mipo Dockyard Co., Ltd. that could repair about 450 ships a year,we provide our Clients the most efficient and productive solutions.
Our services for modernization of repair shipyards for improvement of existing shipyards'operating system in order to improve productivity and reduce cost, based on performance experiences and know-how in the ship repair fields, provides a high-quality services regarding design, facilities, repair shipyard construction, supervision and project management, and provides practical services to improve Clients' productivity through training and education program.
Competitive Technical Power Solution for repair shipyards
- Design Improvement, Facilities Improvement, Management Improvement,
- Production Precedure Improvement, Challenging Management System, Target Management System
Development of Process Management for repair shipyards
- Computer Integrated Management System for Design, Logistics, Production, Facilities
- Maintenance, QA, Cost Control, Process Control
Optimized factory Layout for ship repair)
Production Capacity Re-Calculations & Manning Plans
Analysis of Facilities & Equipments
Investment budgets and analysis
- including Civil works, Factories/shops Construction and Facilities for Refurbishment of repair shipyards
Performance improvement and New Technology Implementation
Improvement of productivity
Optimizing logitics
Various systems required for shipyard operation
- Production Management System, Procurement Management System, Quality Management System
- Cost Management system, Man-Hour Management System, Design Management System
- HSE Management System and etc.
Man-power Saving method for ship repair and conversion
Process Management Method for Cost Saving
Efficient Workforce Management
Engineering for Ship Conversion or Large-Scale Works
New Technology Implementation
Modernization or expansion for obsolete factories or shipyards